shop
---
Business / journalism
This section contains publications for sale that are either written and/or researched and edited by TransWrite.
---
'Creating Tomorrow: Planning, Developing and Sustaining Change in Education and Other Public Services'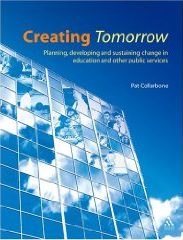 UK schools and other public service organisations are being encouraged to think seriously about modernisation,cultural change and remodelling their workforce. In this practical and insightful book, Dame Pat Collarbone shows organisations how to achieve this and provides strategies for making change sustainable for the future. In the last few years, remodelling has been taking place in UK schools and in local authorities, children's centres, and locally based agencies and services that support young people. Many organisations have worked through the remodelling change process, but others need to and would benefit from doing so.

---
Creative / personal
This section includes personal (non-business) stories and other documents for sale, written by Neil del Strother. It also signposts books and publications by other authors that may be of interest.
---
'For My Child'
"This novel is riveting. It will carry you on a journey, a journey that may remind you of your own life. It opens your heart and takes you on a roller coaster ride through the ups and downs, the emotional traumas and the pivotal turning points that life offers. A real page-turner, this book is unputdownable!
Brandon Bays, International Best-selling Author of The Journey
NB. This book is available in electronic format only for the moment. It can be read on a Kindle and on any computer if you download free kindle software. See www.amazon.co.uk/For-My-Child-ebook/dp/B009DLKJEY/ref=sr_1_1?ie=UTF8&qid=1351704184&sr=8-1
---
'The Flower In The Desert'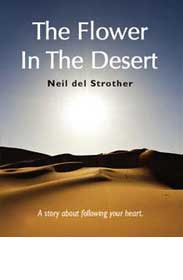 "Neil guides us on a trip through life's emotions and illustrates the gift of love available to each of us when we open and surrender in our worst fears and realise the gift therein. Read this and be inspired."
Brandon Bays, International Bestselling Author of The Journey
"A beautiful allegory for our times of the seasons of our lives, of re-empowerment, and what it really means to be alive. This is a story to share with those you love."
Jonathan Horwitz, co-director of the Scandinavian Centre for Shamanic Studies
You can buy this beautiful hardback book for £7.99.
This price includes free P&P for UK sales – overseas P&P is £2.00.
---
'The Journey'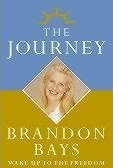 In 1992, Brandon Bays discovered she had the tumour the size of a football in her stomach. She underwent an emotional healing journey, trying to uncover the emotional root of what she believed was causing the disease in her body.
Six and half weeks later, she was pronounced text-book perfect–no drugs, no surgery, no tumour.